Spring cutbacks are in full swing at communities around the valley as we have arrived at the season for the pruning of all frost damaged plants. The plant species included in this list are the bougainvillea, lantana, natal plum, Mexican honeysuckle and chuparosa. You can expect to see a drastic change in your community's appearance in the next few weeks due to this rejuvenation pruning, but not to fret! The plants will begin to start taking new shape and bud out soon once the temperatures reach 80 degrees for a few weeks.
Why is this type of drastic pruning necessary?
When plants are allowed to grow in their natural form and shape they are more sustainable and live much healthier and longer lives. Constant shearing (balling up the plant) and excessive pruning compromise the vigor and health of the plant, making it susceptible to reduced blooming and even premature fatality.
Maintaining plant health includes the removal of diseased, dying, injured and dead branches. Controlling plant size to prevent obstruction of views, sidewalks, driveways or other hazards, and maintenance of plant health are all reasons for rejuvenation pruning. Remember, these plants are living just as humans. The more we cut and scrape ourselves, the more we are susceptible to scars, infection, and disease. The same ideology goes for these plants, making it vital to prune naturally to encourage normal regrowth in a sustainable manner.
What can I expect the plants to look like and how will they be cut?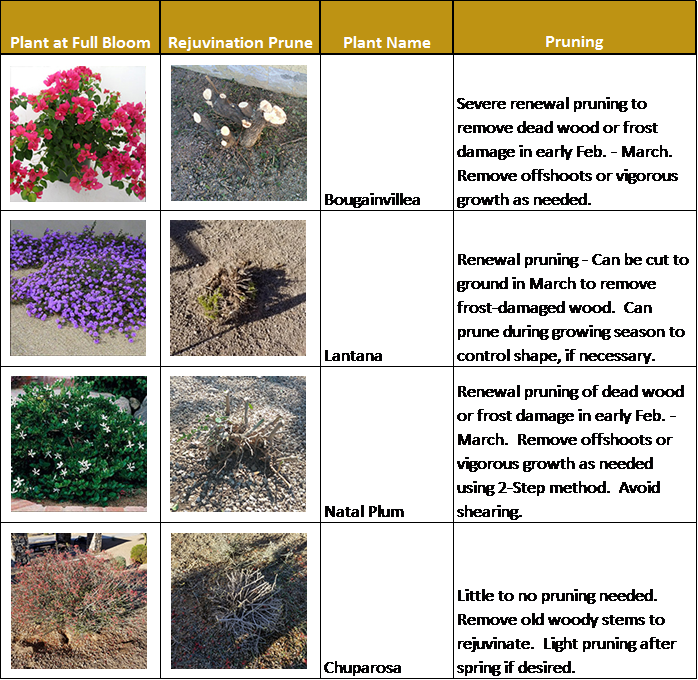 We understand that when these cutbacks happen, it can leave your community looking bare and unappealing. But rest assured that it is only temporary and intended to assist with the preservation of one of your community's largest assets.