When it comes to fertilizing plants, you can usually find your tree, shrub, and garden fertilizers at any nursery or hardware store, each one specified for all sorts of potential uses and purposes. But for many reasons, turf fertilizer is much less clearly understood by the general populace. What makes turf fertilizer different from other fertilizers, if anything?
Fertilizer Types
Fertilizers, at the most basic level, are collections of nutrients that plants need in addition to water, sunlight, and carbon dioxide, in order to thrive. A "complete" fertilizer is one that contains each of the three most important elements for healthy plants: nitrogen, phosphorous, and potassium. Most of the liquid and granular fertilizer for trees, shrubs, and herbs will be some formula of a complete fertilizer. The ratio, typically written as (Nitrogen %) – (Phosphorous %) – (Potassium %), is important to note on any container, because different regions have soils with different amounts of each of these compounds. Additionally, every species of plant uses up its mineral supply at a different rate.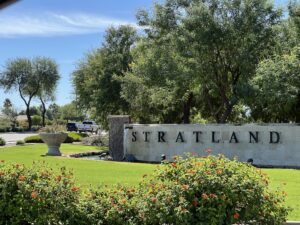 The Needs of Arizona Grass
The Arizona soil found in the Valley is known for being almost completely void of natural Nitrogen, and it just so happens that Nitrogen is the nutrient that grasses tend to use up extremely quickly. If your grass is looking sad, with patches of thinning or discolored foliage, there's a high chance that your turf is running out of usable Nitrogen.
In order to ensure a good supply of Nitrogen for your grass, ELS typically recommends the use of Ammonium Sulfate. Ammonium Sulfate is a chemical compound that is not a "complete" fertilizer, but rather a nutrient that supplies exclusively nitrogen to the soil with the fertilizer ratio 21-0-0. We follow the Maricopa County Cooperative Extension's recommendation of applying ½ – 1 pound of Ammonium Sulfate per 1,000 square feet of turf space, depending on how deficient the grass appears to be. The same ratio is recommended for your personal backyard spaces as well. For example, if you have 500 square feet of turf in your backyard, apply 0.25-0.5 pounds of 21-0-0 Ammonium Sulfate across the space, depending on how healthy your grass is looking.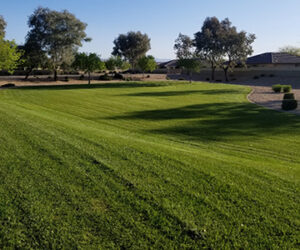 How Often Do I Fertilize Arizona Turf?
Every yard space is different. Some yards have very poor soil drainage, some have more or less shade than others, some have more nitrogen in the soil than others. Because of this, you'll have to adjust for how your grass behaves over the course of a year. The general recommendations, however, range from every four weeks to every eight weeks. The Maricopa County Cooperative Extension website with the University of Arizona offers a series of charts explaining the best fertilizing frequencies for different varieties and combinations of grass. Go to extension.arizona.edu/sites/extension.arizona.edu/files/pubs/az1817-2020.pdf to read the full explanation.
The most common grasses that follow rules for the examples provided are Winter Rye for the winter and Bermudagrass for the summer. Other, less common grass varieties may have slightly different fertilizer preferences, though these general rules pertain throughout most grasses.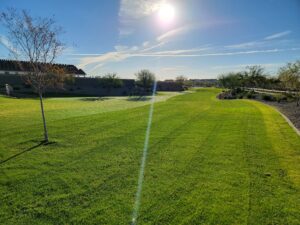 Other Nutrients and Practices
While Nitrogen is the most important element to get into your grass, it's not the only nutrient that could use an occasional boost. Sometimes, grass becomes deficient in iron, which leads to pale foliage and an overall sad look. To solve this, use iron chelate or other iron-filled supplements. The Arizona soil (and water supply) is often high in salts, which can clog up soil and hurt grass. For this, apply gypsum and "aerate" the soil using a tool called a "lawn aerator." If you've recently overseeded, we recommend using a fertilizer that contains both Nitrogen and Phosphorous.
The ELS Maintenance Division is a group of experts who have been keeping turf spaces looking great around the Valley for nearly 50 years. If you have any questions or manage a community or commercial property that could use a new landscaping company, email us at [email protected] and we can get started.