Wondering what you can do in your garden in the heat of the summer? How does pruning trees sound? It may come as a surprise, but May to August—in the otherwise brutal heat of the summer months—is the best time to prune native and desert-adapted trees like palo verde, sissoo, mesquite, willow acacia, palo brea and African sumac. June is ideal, just before the summer monsoon season begins.
Here's why.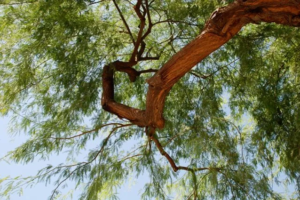 First, desert trees grow quickly and can build up heavy foliage that weigh down their limbs. Second, pruning cuts to desert trees heal more quickly in the heat.
The goal of pruning a desert tree is to evenly reduce the weight of overgrown or heavy limbs to create more space within the tree canopy for wind to blow through and for heavy rains to fall to the ground below. This approach is called "crown thinning," a term you can read more about it you don't have much pruning experience.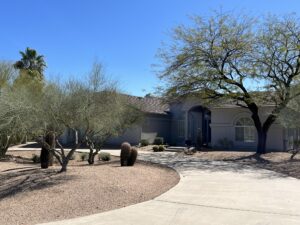 You can prune any tree at any time of year to remove dead or diseased branches or to remove a branch that rubs against or crosses another branch. If the tree is already unhealthy, limit your pruning to removing only dead branches.
If your tree is in good condition but just overgrown, remove suckers from the trunk and thin the crown, being careful not to remove more than 25 percent of the tree's foliage in any one year. In the process of thinning, also be sure to avoid "lion tailing" your branches. Lion tailing involves removing too many small branches from within the tree canopy, leaving foliage mainly on the branches' outer tips. Lion tailing is a common cause of storm damage to trees because the branches end up unevenly balanced with too much foliage weighted at the tips.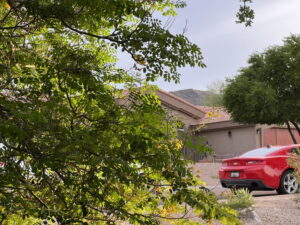 So, this month, begin by deciding what and where to prune. Look at your desert tree from a distance to assess its overall height, width, density, shape and spacing between branches. Think about how wind and rain can better move through the tree. Plan your cuts. Then hydrate in advance, head outside early in the day, and start pruning.