Is the neighborhood landscaping still eye-catching? HOAs—and homeowners—can get excellent bang for the buck with landscape investments, which can save on maintenance and repairs in the long-run and can keep homeowners happier about the value they receive from their association dues.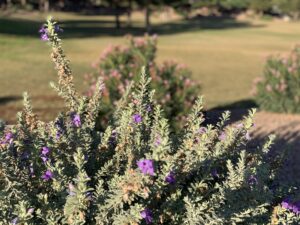 Here are our suggestions for different ways you can invest in your landscape and add value to your home and neighborhood:
Make Simple Design Improvements
Some of the showiest landscape upgrades are the simplest and cheapest.
Add accent lighting, like uplighting a tree, downlighting a path, or shadow lighting an architectural element.
Install a water feature, which can attract nature and also calm road noise.
Refresh an outdated landscape design with topdressing and new plantings.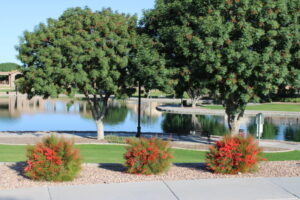 Invest in Plants
Appealing landscapes have healthy, thoughtfully placed, and properly maintained plant material.
Replace missing trees and plants for an instant boost to visual appeal.
Fix wrong plant, wrong place problems, which may have resulted in lack of vigor, undersized/oversized scale issues, or misshapen forms.
Prune and shape trees to restore their form and enhance their value.
Create plant focal points, a common problem in older or overgrown landscapes.
Deep-root fertilize non-native trees to keep them vigorous and healthy.
Rethink Hardscapes
Hardscape upgrades can make a big difference because they draw the eye, create architectural design elements, and delineate spaces.
Repair uneven curbing or replace missing sections to restore continuity to a landscape area.
Add hardscape elements like low walls to create new planting beds or to divide big spaces into smaller, more defined areas.
Consider where new sidewalk or pathway surfaces may be needed to contain foot traffic and prevent further landscape damage and erosion.
Landscape Investments for Homeowners Associations
A one-year boost to your HOA's landscape budget, or a one-time allocation of reserve funds, may be all your neighborhood needs to complete a landscape facelift. Replacing missing plants and trees, refreshing decomposed granite topdressing, and revitalizing planting beds are the quickest and most impressive investments in neighborhood home values. Go further by power-washing and painting common area structures, installing landscape lighting, or refacing entrance monuments and marquees.
Have ELS assist with your landscape projects. For a quote, talk to your ELS area manager or complete the online request form.