Overseeding in Arizona, you might hear people talk about throwing down perennial ryegrass seed after scalping. The term 'throwing seed' is a terrible misnomer because ryegrass seed thrown by hand would result in far too much randomness for a pretty lawn.
Like in the photo below, you'd have uneven patterns in the new grass. Instead, let's call the process 'spreading seed.' Seed spreading is more art than science because it requires finesse.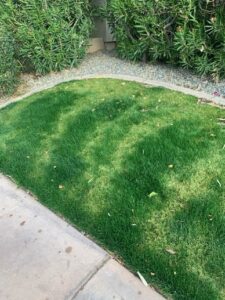 Uneven patterns from hand-thrown perennial ryegrass seed.
In this post, we have set out for you here the basic steps in the seed spreading process to give you a few tips of the trade and to explain where the finesse lies for a showy winter lawn.
Let's begin with what to buy. There are different grades of perennial ryegrass on the market. Buy the best you can afford, because 'premium' seed is certified (in writing on the back of the bag) for a guaranteed maximum percentage of weed seeds mixed in. Cheap seed means more weeds.
Next, how much seed to buy is math. Start by estimating the size of your lawn area in square feet. For example, if your lawn is 10 feet wide and 20 feet long, for example, you have 10 x 20 = 200 square feet. If your lawn has rounded edges, pretend they are square corners to make for an easier calculation. Now, round up your final number because it's better to have seed left over than to run out.
Next, multiply that number by a common ryegrass seed application rate of 8-10 pounds per 1,000 square feet for a typical front or back residential lawn:
200 sq ft x (8 lbs / 1,000 sq ft) = 1,600 / 1,000 = 1.6 pounds of perennial ryegrass seed
Here's the first bit of finesse. Before you head off to buy 1.6 pounds of seed, know that it's always a good idea to buy about 10% more seed than you need to fill in any bare spots that don't germinate well. In this example with 200 square feet to cover, you'd round up your 1.6 pounds an extra 10% and go buy 1.76 pounds (more easily rounded to 1-3/4 or 2 lbs) of perennial ryegrass seed. When you get ready to start spreading, take out the overpurchased 10% (about ¼ of a pound in our example) and reserve it until after you can see how well the new grass plants are filling in. Divide your target 2 pounds of seed into two equal halves.
Here's the goal: for the most even coverage when we overseed, we want to spread half the seed in one direction (think east-west) and then the other half of the seed in the perpendicular direction (think north-south). That's why we divide the target amount of seed into two equal halves.
The next step is to calibrate your spreader. This is the second bit of finesse. It doesn't matter if you are using a hand-held spreader or a walk-behind spreader. And your spreader can be a whirlybird/rotary spreader or a drop spreader. But every spreader has a scale (e.g. 1-10 or 1-20) indicating how open it is. Start with 20%-25% open, like setting 2 on a 1-10 scale or setting 4 on a 1-20 scale.
Remember…we said seed spreading is an art. In this example on a 200 square-foot lawn area, you are walking in the east and west directions to spread half of your 1.76 pounds (half is 0.88 pounds). The finesse here is to watch how fast the seed is leaving the hopper. If it's spreading too slowly or too quickly, adjust your spreader's opening. Slower is better because you can make as many passes as you need in the east-west directions to use up all of that first half of your seed. The key is to spread that half of the seed as evenly as possible in that direction over the entire 200 square-foot lawn area until it's gone. And stay within the boundaries…keep seeds off surrounding rocks and concrete, or they will grow wherever water reaches them.
Now, in this example of seeding 200 square feet of lawn, you spread the second half of your perennial ryegrass seed (the remaining 0.88 pounds) by walking in the perpendicular north and south directions. Keep your spreader at the setting that spread most evenly when you were going east and west. By the time you are finished going north and south, you will have used up the second half (0.88 pounds) of the seed. At this point, you have spread all 1.76 pounds of seed evenly across your entire 200 square-foot lawn area, and you still have in reserve the 10% you overpurchased.
THE ART OF SEED SPREADING TEST: Mark off 1 square inch anywhere in your turf area. Count the seeds laying within that 1 square inch patch of soil. Are there 13-14 seeds? More than 13-14 and your turf will grow in more densely. Fewer than 13 or 14 and your winter lawn will be more sparse. (This seed count assumes you used a typical residential application rate of 8 pounds of perennial ryegrass seed per 1,000 square feet.)
Water in your newly spread perennial ryegrass seed, keeping it moist throughout the day until it germinates and new ryegrass plants grow. Watch the growth patterns carefully and adjust your sprinklers for completely even coverage. Patches where ryegrass doesn't grow indicates water coverage problems. Fix sprinkler problems to achieve even water coverage, and then spread some (13-4 seeds per square inch is your goal!) of the 10% of the reserve seed you overpurchased to correct coverage problems.
You're done. Step back to admire your artistry and your lush winter lawn.