As a community manager or board member for an HOA community it is important to ensure that the maintenance company you choose for your community is keeping lines of communication open with you and your board. Important questions to ask yourself when considering if a company is right for YOUR community are:
Is my HOA maintenance company transparent in what they are doing in my community and when?
How is my HOA maintenance company communicating with me and my homeowners? Is their current method effective?
What can my HOA maintenance company do when it comes to communication to make my job easier?
While there are other factors to take into consideration as well, communication between landscape company and community plays a vital role in establishing a long lasting and mutually beneficial relationships.
Blog Posts For FAQ
Blog posts are a great way for HOA maintenance companies to keep communication open and touch on certain topics that require longer explanations and detail to properly explain. Regular and consistent blog posts by an HOA maintenance company helps to answer frequently asked questions from homeowners and board members as well as to educate the community on industry standards. Blog posts should be easily accessible and shareable so that you, as a community manager, can send them out en masse. This helps mitigate an influx of homeowner questions and/or complaints for various landscape events that may happen in a community each season.
Utilizing blog posts as a resource to send to disgruntled or confused homeowners saves time, shows authority as an informative manager, and helps educate the homeowner.
Monthly Community Newsletters
Community newsletters are one of the BEST resources a maintenance company can supply when it comes to keeping communication open between community manager, board, and homeowners. These newsletters create a space where everyone can feel up to date on what is happening and holds the company to a level of accountability as all tasks that they should be completing are outlined in the newsletters.
We recommend releasing supplied newsletters (newsletters your HOA maintenance company creates and sends to you) monthly for large communities. A strong and effective newsletter will have one section dedicated to projects and events for the current month and another, separate section, dedicated to upcoming projects and events later that season. This allows for everyone to be on the same page and tells homeowners what they can expect from the HOA maintenance company.
Here at ELS, we release monthly newsletters for over 15 of our largest communities. This has decreased the amount of questions and emails that community managers receive and has increased satisfaction among homeowners, board, and managers.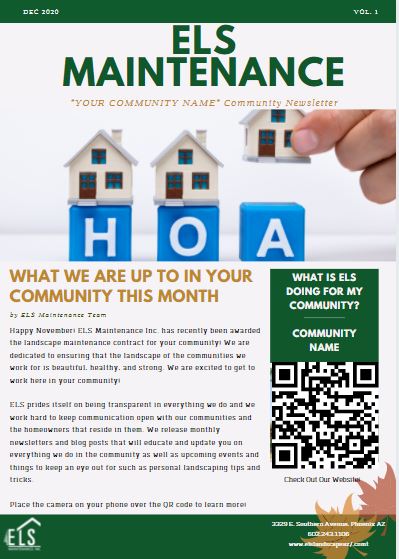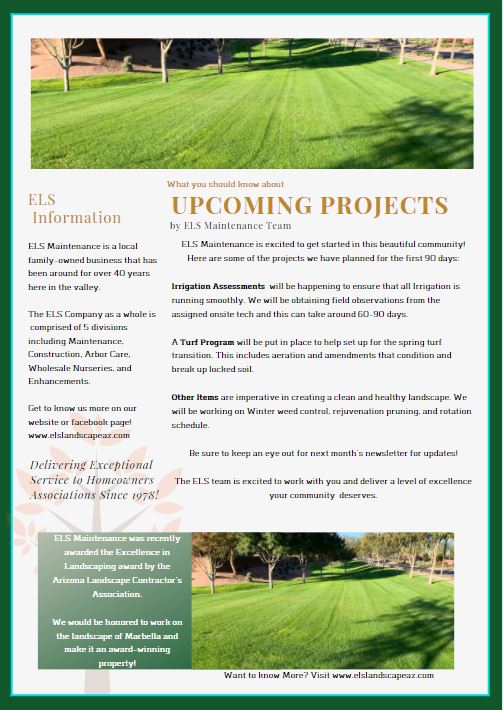 Managers and Staff at Important Meetings
The presence of your HOA maintenance company at important meetings with the community is crucial to ensuring that all questions and concerns regarding landscape are addressed. A company that is not willing to attend these meetings is a company that is not willing to communicate. Building relationships with the community, attending all important meetings, and showing up plays a huge role in the overall success of the community and company.
While communication may not be on the top of the priority list when looking for a new HOA maintenance company for your community, we believe it should be. Here at ELS we value effective and strong communication with community managers, board members, and homeowners just as much as we value a job well done out on the field.
If you are struggling with your current HOA Maintenance company and feel they are not up to par with your expectations, contact us today!
Unhappy with the communication from your current HOA Maintenance company? We got you!